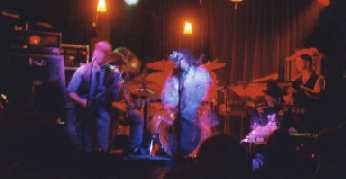 4217 University Way NE, Seattle, WA
Last Shredd Show of the Millennium
A couple of days before the show, the band found out that they were going on first - at 9:30 p.m.! We tried to get the word out to as many people as possible. Thanks to everyone who changed their schedules and came down early. We had a good turnout and a great time!
Because of the last minute time change, Diver Dan (pedal steel) was unable to make it. He was attending an important holiday event and would have been able to make it later. So Mr. Shredd contacted the steel player that was going to play at the last show. He was available, but a bit apprehensive because he hadn't played with the band before...at all. He had listened to the CD's, though. But Mr. Shredd encouraged him to come out anyway. So Cracka' Jack joined the band for the first time. Oh, yeah, and he did fine! It was nice having the sweet strains of the steel guitar weaved throughout the songs, once again!
Other bands: Radio Star and 100th Monkey both had a very hard act to follow.
---
THE BAND
Travis Shredd

Tea-Böy

B-Naz

MC Stevie-Bob Lethal

Merfdog

Cracka' Jack
(see above)
If you don't know what parts the band members play, then read your CD!
---
Set List
Blessing of band by Rev. Blacky
Come On Back
Half The Man
Smoove Flava
Diver Dan
Nashville Drive-By
Rooster in the Henhouse
Cousin Clem
Trailer Trash
Jiggy Crack Head
Thunderin' Bass
Quit Yo' Whinin'
Fire In Her Eyes
(featuring Ohio Player's "Fire")
Goin' South
---