March 2001. Penn got us in for free to the Penn & Teller show at the Rio. We sat in the VIP section on comfortable bench seats with a table.

Us and Penn.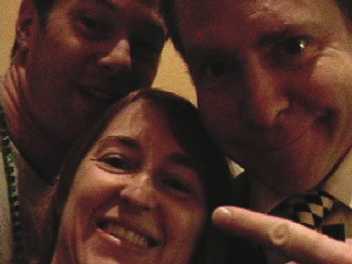 Us and Teller.
After the show, Penn gave us a ride to the Monte Carlo where we saw Mike Close at the Houdini Lounge. Mike was amazing! Doing card tricks inches from our faces and we couldn't figure out how he was doing it. Even Penn was blown away. Also, a must see if you are in Las Vegas...Mac King.
---
December 2000. Penn & Teller are in town. We went to the Thursday show and took Penn to a private party afterwards. We didn't get a chance to return the dinner favor because Penn was working in the evenings!
---
He's the talking half of Penn and Teller. Of course, Teller does talk, just not during their show (much). We saw him narrate "Faust," the old film version on Halloween night 1999 and he was great.
When we visited with Penn in Las Vegas, September 1998, he insisted on paying for dinner - it's his town. We're still waiting to return the favor!
These pictures are actually on the TravisShredd page. The first one had the clever title of "Travis 'n' Mrs. Shredd & Penn peer thru hole in your monitor!"
Penn actually took the above picture, because he has the longest arms!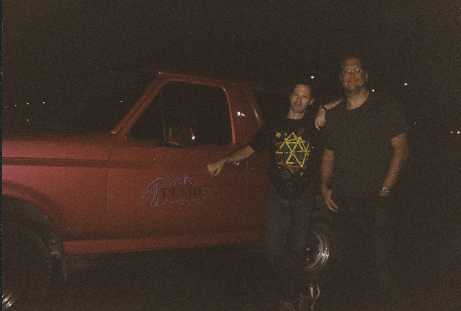 Ok, so it's kind of dark. I didn't feel like lugging my big camera around Las Vegas, so I was using a throw-away camera.
---