Photo by Allen Freeman

Photo by Allen Freeman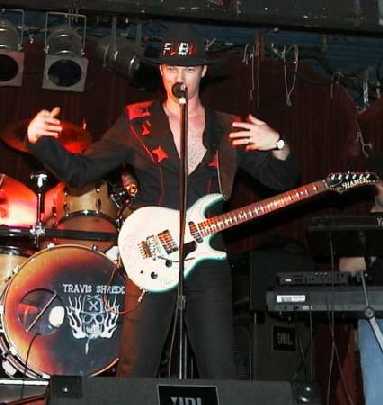 Photo by Allen Freeman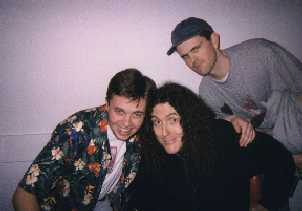 Seattle the night before
Tea-Böy and a friend with Al
(more pix on the Weird Al page in the Celebrity Circle)
This was the first show in 2000. Not the first show of the millennium. That will be next year! The action was at the O.K. Hotel in Seattle, Washington. There was only one opening band so the Shredd crew played almost 2 HOURS! And the fans still wanted 2 encores!!
Also at the OK Hotel that night: The Sainted Reverend Doctor Blacky Thanatos Roach had his "Hey, I'm Back From Europe" party.
---
THE BAND
Travis Shredd

Tea-Böy

B-Naz

MC Stevie-Bob Lethal

Merfdog

Diver Dan
on the sound board:
If you don't know what parts the band members play, then read your CD!
---
Set List
Come On Back
Half The Man
Smoove Flava
Diver Dan
live for the first time:
Jiggy Crack Head
Nashville Drive-By
Rooster in the Henhouse
Cousin Clem
Trailer Trash
Tattletale
Where We Goin'
Oklahomey
Prozac Princess
Quit Yo' Whinin'
Whoa Tequila
Thunderin' Bass
Die (in a flaming car crash)
Fire In Her Eyes
(with Rev. Blacky presiding)
Like a Kenworth
Goin' South
Encore:
Yo Travis
2nd Encore
Will Ya Still Look Purty
---
Happenings
Kelly got a birthday dance from Merdog while the band played "The Girls of Porn" by Mr. Bungle. Happy Birthday, Kelly!
Rev. Blacky cast out a demon during Fire In Her Eyes. Nice job, Blacky, and welcome back!
Die (in a flaming car crash) was dedicated to Andy, fan Keresa's ex. Tea-Böy got carried away encouraging Andy to "DIE!" Tea-Böy, are you ok? Are you sure?
---
Opening Band
Hicky
WHO WASN'T THERE
Weird Al and his band played Seattle the night before, but had to go to Portland this night. They were very disappointed. So were we!
---