Pixie Shredd

Mr. Shredd

Tea Böy and Cornelius

Cornelius

Mike Close doing his magic on the keyboard.

Mr. Lethal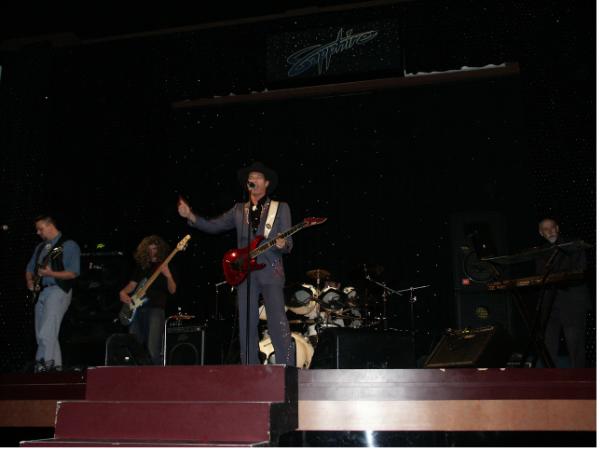 Zeke preparing to be very growly.
3025 Industrial Rd.
Las Vegas NV
This was the "We're Back" show at a new club. The crowd wasn't very big, but very enthusiastic.
Mr. Lethal flew down from Seattle for this gig and Mr. Shredd recruited new members to fill in for B-Naz and Merf Dog (it took two people to replace the Dog!)
After an exotic interpretive dancer opened the show, a blues band performed with our very own Mr. Lethal sitting in on drums. Then it was our Böyz turn followed by a duo of brothers singing and playing guitar and bass.
It was a fun night and there were celebs in the audience, too!
---
THE BAND
Travis Shredd
lead guitar, vocals

Tea-Böy
guitar, vocals

Cornelius
bass

MC Stevie-Bob Lethal
drums, vocals

Mike Close
(worlds greatest close-up magician)
keyboards

Zeke
low growly vocals
---
Set List
Half the Man
Will Ya Still Look Purty
Nashville Drive-By
Die (in a flaming car crash)
Jiggy Crack Head
and
Fire In Her Eyes
(w/ Fire, Enter Sandman, Beat It/Eat It)
---
The next night, it was just the Homeboys and the brothers. Another very fun night and different celebs in the audience!
Mr. Shredd wore a brand new snazzy shirt and Cornelius was sporting a new look, too.